The Top Valentine's Day Breaks for 2023
A special day for lovers everywhere, Valentine's is the most romantic date in the calendar, and this year, why not make it even more memorable (and start ticking off that Bookitlist in the process) by jetting off on an intimate getaway!
But where to go? With so many romantic destinations on offer it can be difficult to choose, but never fear, this year we're playing cupid, and have compiled a list of unforgettable (and romantic) holiday experiences right across the globe.
From candlelit dinners in Paris to gondola rides in Venice....read on to discover The Top Valentine's Day Breaks for 2023
Enjoy a candlelit dinner in Paris
View this post on Instagram
Paris exudes romance like no other city on earth, its tree-lined boulevards, world-famous landmarks, and dimly-lit riverside eateries, seem to have come straight from the pages of some romantic fiction.


What better place than, for a valentine's getaway? Stroll the banks of the Seine, hand in hand; peruse world-famous artworks at the Louvre; watch the sunset over the city from the summit of the Eiffel tower, and come nightfall, grab a table in a quiet corner of a charming restaurant and enjoy a candlelit dinner for two.
Stay in an overwater villa in the Maldives
View this post on Instagram
There are few, if any, more romantic destinations on earth than the Maldives, a mosaic of gorgeous islands fringed by perfect white sand beaches and set within a series of azure lagoons.





Truly the embodiment of paradise, it's the perfect destination for a valentine's day trip, and what's more, it also boasts some of the most stunning overwater villas on the planet. Think, thatched roofs, private infinity pools, and natural wooden terraces, hovering above crystal-clear waters brimming with colourful, tropical marine life!
See the Northern Lights in Lapland
View this post on Instagram
What could be more romantic than you and your loved one together, enjoying the awe-inspiring natural spectacle that is the northern lights?



Thanks to the long winter nights, February is a great time to catch the aurora, and there is no better place on earth to see it than Lapland. Not only that, but Finland's northernmost region is a fairytale wintry paradise, carpeted in thick snow and dotted with evergreen pines, glaciers, and frozen lakes, and it also boasts its very own igloo resort, where guests can sleep in glass roof domes and gaze at the starry canopy above.
Explore Venice on a gondola
View this post on Instagram
One of the most romantic destinations on earth, the northeastern Italian city of Venice is truly captivating, a maze of baroque palaces, gothic churches and grand piazzas set on over 100 tiny islands in the heart of a lagoon.
Its picturesque beauty truly knows no bounds, and thanks to its extensive collection of waterways, there's no better, or more romantic way to explore than cosied up with your partner in a gondola with a glass of Italian wine in hand.
Swim in a 'luminous lagoon'
View this post on Instagram
Fringing Jamaica's northern coastline near Montego Bay, the 'Luminous Lagoon' (also known as 'Glistening Waters'), gets its name from the natural phenomenon which causes its waters to give off a stunning blue glow at night.
One of only a handful of such lagoons in the world, it is incredibly beautiful, and swimming in its neon-blue waters is not only a one of a kind experience but, when you bring your loved one along, a thoroughly romantic one!
Aside from that, Jamaica has plenty of opportunities for romance: from strolling hand in hand down a palm-lined beach, watching the sunset from the cliffs in Negril's West End; or relaxing in a natural pool at the foot of a picturesque waterfall!
Relax in Europe's largest thermal baths
View this post on Instagram
Encompassing a total of 18 indoor and outdoor pools (along with a host of sauna/steam cabins and treatment rooms) Budapest's iconic Széchenyi Spa is the largest thermal bath in all of Europe.


This magnificent landmark is reason enough to visit the Hungarian capital alone, but the city has so much more to offer, from grand Baroque churches, and gothic palaces, to a host of amazing eateries along with some of the best nightlife on the continent. Not only that, but for an extra bit of romance, you can take a nighttime cruise down the River Danube and witness the city in all its majestic, nocturnal glory!
Have dinner in an underwater restaurant in Dubai
View this post on Instagram
Enjoy a meal with a view quite like no other at one of Dubai's incredible 'underwater' restaurants! Tuck into some delicious culinary delights whilst marvelling at sparkling, turquoise waters, brimming with all manner of kaleidoscopic marine life!
Of course, the UAE's most popular destination isn't the only place on earth that offers such a unique dining experience, but no other boasts such an array of options, with the city home to not one, but three subaquatic eateries. The world-renowned Atlantis the Palm houses two of the restaurants, both of which offer spectacular vistas of the Ambassador Lagoon, whilst the Burj Al Arab Hotel's eponymous eatery, serves some of the finest cuisine in all of Dubai!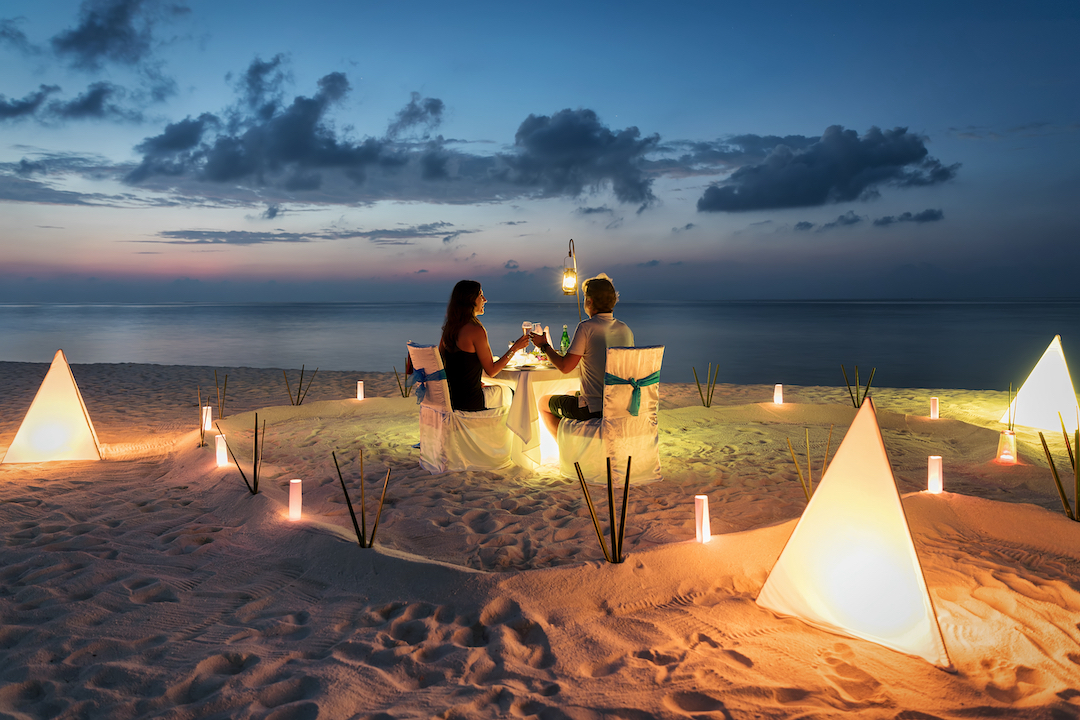 WANT TO EXPRESS YOUR LOVE IN A UNIQUE WAY?
If you need to tailor your next trip to fit your exact needs (or those of your partner) then we understand. We'll customise your trip to fit your every desire, from finding the perfect hotel with the most luxurious satin sheets, to activities that speak to your soul. Let our travel experts curate a custom package for you, for no additional fee.
MAKE MY TRIP